BUSCA DE MARCADORES MOLECULARES PREDITIVOS DO ACOMETIMENTO DE LINFONODOS EM CARCINOMAS PAPILÍFEROS DE TIREOIDE
Palavras-chave:
Câncer de tireoide, Linfonodo, Expressão gênica, Marcador molecular
Resumo
O câncer de tireoide é a neoplasia que mais cresce em incidência todos os anos, sendo o carcinoma papilífero de tireoide (CPT) o subtipo mais comum. Em muitos casos estes tumores podem se tornar agressivos, ocasionando metástases linfonodais. A determinação de marcadores moleculares pela análise de expressão gênica é uma importante ferramenta para a determinação do prognóstico destes tumores. Considerando o papel dos genes NEDD9, B3GNT7, PHB, BAD, PAXIP1, PPM1D e PIK3R5 na etiologia de diversos cânceres, este estudo consistiu em verificar pela técnica de RT-qPCR se os mesmos podem ser marcadores moleculares preditivos do acometimento de linfonodos e se estão relacionados ao desenvolvimento destes tumores. No presente estudo não foi observada expressão diferencial significativa dos genes analisados entre os grupos amostrais de CPT versus MCPT (microcarcinomas) e entre os grupos de CPT linfonodo positivo versus CPT linfonodo negativo, indicando que estes genes não estão relacionados ao desenvolvimento tumoral e não podem ser considerados marcadores preditivos de metástases em linfonodos em CPT.
Downloads
Não há dados estatísticos.
Referências
Barbier-Torres, L. & Lu, S. C. (2020). Prohibitin 1 in liver injury and cancer. Experimental Biology and Medicine, 245( 5), 385–394.
Bemmerlein, L., Deniz, I. A., Karbanová, J., Jacobi, A., Drukewitz, S., Link, T., Göbel, A., Sevenich, L., Taubenberger, A. V., Wimberger, P., Kuhlmann, J. D. & Corbeil, D. (2022). Decoding Single Cell Morphology in Osteotropic Breast Cancer Cells for Dissecting Their Migratory, Molecular and Biophysical Heterogeneity. Cancers, 14(3), 603.
Borges, F. A., Camilo-Júnior, D. J., Yamamoto, F. M., & Xavier-Júnior, J. C. C. (2022). Thyroid FNA performed by cytopathologists accompanied by radiologists guiding the ultrasound provide high-level quality results: A retrospective observational study. Annals of Diagnostic Pathology, 58, 151912
Bumbat, M., Wang, M., Liang, W., Ye, P., Sun, W., & Liu, B. (2020). Effects of Me2SO and trehalose on the cell viability, proliferation, and Bcl-2 family gene (BCL-2, BAX, and BAD) expression in cryopreserved human breast cancer cells. Biopreservation and Biobanking, 18(1), 33-40.
Canevari, R. A., Marchi, F. A., Domingues, M. A., de Andrade, V. P., Caldeira, J. R., Verjovski-Almeida, S., Rogatto, S. R. & Reis, E. M. (2016). Identification of novel biomarkers associated with poor patient outcomes in invasive breast carcinoma. Tumor Biology, 37(10), 13855-13870.
Chen, B., Lu, X., Zhou, Q., Chen, Q., Zhu, S., Liu, H., & Li, G. (2021). LncRNA PAXIP1-AS1 is a Prognostic Biomarker and Correlated with Immune Infiltrates in Ovarian Cancer. Research Square, 12. DOI=10.3389/fgene.2021.697471
Chen, J. V., Morgan, T. A., Liu, C., Khanafshar, E., & Choi, H. H. (2022). Cervical Lymph Node Features Predictive of Suboptimal Adequacy During Ultrasound‐Guided Fine‐Needle Aspiration in Thyroid Cancer Patients. Journal of Ultrasound in Medicine, 41(1), 135-145.
Da Silva, R. M., Pupin, B., Bhattacharjee, T. T., Kulcsar, M. A. V., Uno, M., Chammas, R., & de Azevedo Canevari, R. (2020). ATR-FTIR spectroscopy and CDKN1C gene expression in the prediction of lymph nodes metastases in papillary thyroid carcinoma. Spectrochimica Acta Part A: Molecular and Biomolecular Spectroscopy, 228, 117693.
De Gregoriis, G., Ramos, J. A., Fernandes, P. V., Vignal, G. M., Brianese, R. C., Carraro, D. M., Monteiro, A. N., Struchiner, C. J., Suarez-Kurtz, G., Vianna-Jorge, R. & de Carvalho, M. A. (2017). DNA repair genes PAXIP1 and TP53BP1 expression is associated with breast cancer prognosis. Cancer biology & therapy, 18(6), 439-449.
Dehghan, M. H., Hedayati, M., Shivaee, S., Shakib, H., & Rajabi, S. (2021). Tamoxifen triggers apoptosis of papillary thyroid cancer cells by two different mechanisms. Gene Reports, 24, 101266.
Deneka, A. Y., Kopp, M. C., Nikonova, A. S., Gaponova, A. V., Kiseleva, A. A., Hensley, H. H., Flieder, D. B., Serebriiskii, I. G., & Golemis, E. A. (2021). Nedd9 Restrains Autophagy to Limit Growth of Early Stage Non–Small Cell Lung Cancer. Cancer research, 81(13), 3717-3726.
Deng, W., Li, J., Dorrah, K., Jimenez-Tapia, D., Arriaga, B., Hao, Q., Cao, W., Gao, Z., Vadgama, J. & Wu, Y. (2020). The role of PPM1D in cancer and advances in studies of its inhibitors. Biomedicine & Pharmacotherapy, 125, 109956.
Fang, C. H., Lin, Y. T., Liang, C. M., & Liang, S. M. (2020). A novel c-Kit/phospho-prohibitin axis enhances ovarian cancer stemness and chemoresistance via Notch3 - PBX1 and β-catenin - ABCG2 signaling. Journal of Biomedical Science, 27(1), 1-18.
Hejaz, H. A., Abuzaina, I., Aldeen, R. N., & Saad, S. (2022). Currently Used and New Molecular Markers for Thyroid Cancer Diagnosis. Middle East Journal of Cancer, 13(2), 193-215.
Hua, S., Feng, T., Yin, L., Wang, Q., & Shao, X. (2021). NEDD9 overexpression: Prognostic and guidance value in acute myeloid leukaemia. Journal of cellular and molecular medicine, 25(19), 9331-9339.
Jhuraney, A., Woods, N. T., Wright, G., Rix, L., Kinose, F., Kroeger, J. L., Remily-Wood, E., Cress, W. D., Koomen, J. M., Brantley, S. G., Gray, J. E., Haura, E. B., Rix, U. & Monteiro, A. N. (2016). PAXIP1 Potentiates the Combination of WEE1 Inhibitor AZD1775 and Platinum Agents in Lung CancerPAXIP1 Potentiates WEE1 Inhibitor Action. Molecular cancer therapeutics, 15(7), 1669-1681.
Joo, L., Na, D., Kim, J., & Seo, H. (2022). Comparison of Core Needle Biopsy and Repeat Fine-Needle Aspiration in Avoiding Diagnostic Surgery for Thyroid Nodules Initially Diagnosed as Atypia/Follicular Lesion of Undetermined Significance. Korean Journal of Radiology, 23(2), 280-288.
Kim, J., Kim, M., Choi, S., Choi, S., Choi, H., Lee, C., Kang, S.‐W., Lee, J., Jeong, J. J., Nam, K.‐H. & Chung, W. (2020). Cystic Lateral Lymph Node Metastases From Papillary Thyroid Cancer Patients. The Laryngoscope, 130(12), E976-E981.
Li, L., Kim, H., Park, S., Lee, S., Kim, L., Lee, J., Kim, S., Kim, Y. T., Kim, S. W. & Nam, E. (2019). Genetic Profiles Associated with Chemoresistance in Patient-Derived Xenograft Models of Ovarian Cancer. Cancer Research and Treatment, 51(3), 1117-1127.
Leiphrakpam, P. D., Patil, P. P., Remmers, N., Swanson, B., Grandgenett, P. M., Qiu, F., Yu, F. & Radhakrishnan, P. (2019). Role of keratan sulfate expression in human pancreatic cancer malignancy. Scientific reports, 9(1), 1-10.
Ledinsky Opačić, I., Gršić, K., Šitić, S., Penavić, I., Pastorčić Grgić, M., & Šarčević, B. (2019). Positive expression of NEDD9 in head and neck cancer is related to better survival period. Acta Clinica Croatica, 58(4.), 655-660.
Liu, P., Xu, Y., Zhang, W., Li, Y., Tang, L., Chen, W., Sun, Q. & Guan, X. (2017). Prohibitin promotes androgen receptor activation in ER-positive breast cancer. Cell cycle, 16(8), 776-784.
Liu, T., Zhou, S., Yu, J., Guo, Y., Wang, Y., Zhou, J., & Chang, C. (2019). Prediction of lymph node metastasis in patients with papillary thyroid carcinoma: a radiomics method based on preoperative ultrasound images. Technology in cancer research & treatment, 18, 1533033819831713.
Liu, Y., Jing, X. B., Wang, Z. C., & Han, Q. K. (2021). HCP5, as the sponge of miR-1291, facilitates AML cell proliferation and restrains apoptosis via increasing PIK3R5 expression. Human genomics, 15(1), 1-10.
Lu, C. H., Wu, W. Y., Lai, Y. J., Yang, C. M., & Yu, L. C. (2014). Suppression of B3GNT7 gene expression in colon adenocarcinoma and its potential effect in the metastasis of colon cancer cells. Glycobiology, 24(4), 359-367.
Lu, Z. W., Wen, D., Wei, W. J., Han, L. T., Xiang, J., Wang, Y. L., Wang, Y., Liao, T. & Ji, Q. H. (2020). Silencing of PPM1D inhibits cell proliferation and invasion through the p38 MAPK and p53 signaling pathway in papillary thyroid carcinoma. Oncology reports, 43(3), 783-794.
Machiela, M. J., Myers, T. A., Lyons, C. J., Koster, R., Figg, W. D., Colli, L. M., Jessop, L., Ahearn, T. U., Freedman, N. D., García-Closas, M. & Chanock, S. J. (2019). Detectible mosaic truncating PPM1D mutations, age and breast cancer risk. Journal of human genetics, 64(6), 545-550.
Malik, A. A., Aziz, F., Beshyah, S. A., & Aldahmani, K. M. (2022). Characteristics and management of papillary thyroid microcarcinoma in the United Arab Emirates: Experience from a large tertiary hospital. Saudi Journal of Medicine and Medical Sciences, 10(1), 42.
Mann, J., Githaka, J. M., Buckland, T. W., Yang, N., Montpetit, R., Patel, N., Li, L., Baksh, S., Godbout, R., Lemieux, H. & Goping, I. S. (2019). Non-canonical BAD activity regulates breast cancer cell and tumor growth via 14-3-3 binding and mitochondrial metabolism. Oncogene, 38(18), 3325-3339.
Medas, F., Canu, G. L., Cappellacci, F., Boi, F., Lai, M. L., Erdas, E., & Calò, P. G. (2020). Predictive factors of lymph node metastasis in patients with papillary microcarcinoma of the thyroid: Retrospective analysis on 293 cases. Frontiers in Endocrinology, 11, 551. https://doi.org/10.3389/fendo.2020.00551
Meng, H., Wu, J., Huang, Q., Yang, X., Yang, K., Qiu, Y., Zhu, J.-H., Li, B.-P., Wang, Z., & Qi, H. (2019). NEDD9 promotes invasion and migration of colorectal cancer cell line HCT116 via JNK/EMT. Oncology Letters, 18(4), 4022-4029.
Instituto Nacional de Câncer "José Alencar Gomes da Silva". (2019). Estimativa 2020: Incidência de Câncer no Brasil. Ministério da Saúde.
Nikolova, D. N., Zembutsu, H., Sechanov, T., Vidinov, K., Kee, L. S., Ivanova, R., Becheva, E., Kocova, M., Toncheva, D. & Nakamura, Y. (2008). Genome-wide gene expression profiles of thyroid carcinoma: identification of molecular targets for treatment of thyroid carcinoma. Oncology reports, 20(1), 105-121.
Oczko-Wojciechowska, M., Kotecka-Blicharz, A., Krajewska, J., Rusinek, D., Barczyński, M., Jarząb, B., & Czarniecka, A. (2020). European perspective on the use of molecular tests in the diagnosis and therapy of thyroid neoplasms. Gland surgery, 9(Suppl 2), S69.
Paula, L. M., Moraes, L. H. F. D., Canto, A. L. D., Dos Santos, L., Martin, A. A., Rogatto, S. R., & Canevari, R. D. A. (2017). Analysis of molecular markers as predictive factors of lymph node involvement in breast carcinoma. Oncology Letters, 13(1), 488-496.
Rodrigues, C. B. S., Silva, R. M., Pupin, B., & Canevari, R. A. (2019). Expressão do gene cited1 em carcinoma papilífero de tireóide: um potencial marcador diagnóstico. Revista Univap, 25(49), 104-115.
San Laureano, F. C., Alba, J. J. F., Heras, J. M. J., Millán, A. I. J., Fernández-Ladreda, M. T., & Ortega, M. D. C. A. (2020). Development and Internal Validation of a Predictive Model for Individual Cancer Risk Assessment for Thyroid Nodules. Endocrine Practice, 26(10), 1077-1084.
Seneldir, H., Kir, G., Soylemez, T., Girgin, R. B., Ozbay, N., Ozen, F., Ankarali, H., Bas, G. & Alimoglu, O. (2020). Diagnostic accuracy of molecular testing with three molecular markers on thyroid fine‐needle aspiration cytology with abnormal category. Diagnostic Cytopathology, 48(6), 507-515.
Spartalis, E., Kotrotsios, K., Chrysikos, D., Spartalis, M., Paschou, S. A., Schizas, D., Tsamakis, K., Dimitroulis, D., Troupis, T. & Nikiteas, N. (2021). Histone Deacetylase Inhibitors and Papillary Thyroid Cancer. Current Pharmaceutical Design, 27(18), 2199-2208.
Wei, Y., Yu, S., Zhang, Y., Zhang, Y., Zhao, H., Xiao, Z., Yao, L., Chen, S. & Zhang, J. (2017). NDRG2 promotes adriamycin sensitivity through a Bad/p53 complex at the mitochondria in breast cancer. Oncotarget, 8(17), 29038.
Wie, P. V. (2020). The role of NEDD9 in enhanced aggressiveness of hexavalent chromium transformed bronchial epithelial cells. Toxicology and Cancer Biology, p. 1–77.
Xia, S., Chen, Y., Zhan, W., & Zhou, W. (2021). Ultrasound-guided fine-needle aspiration versus fine-needle capillary sampling in evaluation of lymph node metastasis of thyroid cancer. Frontiers in oncology, 11, 642142.
Xiang, Z., Zhong, C., Chang, A., Ling, J., Zhao, H., Zhou, W., & Zhuo, X. (2020). Immune-related key gene CLDN10 correlates with lymph node metastasis but predicts favorable prognosis in papillary thyroid carcinoma. Aging (Albany NY), 12(3), 2825.
Xue, Y., Wu, T., Sheng, Y., Zhong, Y., Hu, B., & Bao, C. (2021). MicroRNA-1252-5p, regulated by Myb, inhibits invasion and epithelial-mesenchymal transition of pancreatic cancer cells by targeting NEDD9. Aging (Albany NY), 13(14), 18924.
Yang, J., Li, B., & He, Q. Y. (2018). Significance of prohibitin domain family in tumorigenesis and its implication in cancer diagnosis and treatment. Cell death & disease, 9(6), 1-10.
Yin, Z., Yi, J., Nie, T., Yang, Z., Ding, N., Du, S. X., Liu, S. S. & Peng, T. (2019). Silencing of PPMD1 inhibits proliferation of human colon cancer cells via induction of apoptosis and cell cycle arrest. J BUON, 24(4), 1464-1469.
Youssef, M., Attia, A., Omar, M., Aboueisha, M., Freeman, M., Shama, M., & Kandil, E. (2022). Thyroid lobectomy as a cost-effective approach in low-risk papillary thyroid cancer versus active surveillance. Surgery, 171(1), 190-196.
Yu, J., Deng, Y., Liu, T., Zhou, J., Jia, X., Xiao, T., Zhou, S., Li, J. , Guo, Y. , Wang, Y., Zhou, J. & Chang, C. (2020). Lymph node metastasis prediction of papillary thyroid carcinoma based on transfer learning radiomics. Nature communications, 11(1), 1-10.
Yue, D., Liu, S., Zhang, T., Wang, Y., Qin, G., Chen, X., Zhang, H., Wang, D., Huang, D., Wang, F., Wang, L., Zhao, S. & Zhang, Y. (2021). NEDD9 promotes cancer stemness by recruiting myeloid-derived suppressor cells via CXCL8 in esophageal squamous cell carcinoma. Cancer biology & medicine, 18(3), 705.
Zhang, C., Wang, T., Wu, H., Zhang, L., Li, K., Wang, F., Chen, Y., Jin, J. & Hua, D. (2019). HEF1 regulates differentiation through the Wnt5a/β-catenin signaling pathway in human gastric cancer. Biochemical and biophysical research communications, 509(1), 201-208.
Zhou, S., Xu, M., Shen, J., Liu, X., Chen, M., & Cai, X. (2017). Overexpression of NEDD9 promotes cell invasion and metastasis in hepatocellular carcinoma. Clinics and Research in Hepatology and Gastroenterology, 41(6), 677-686.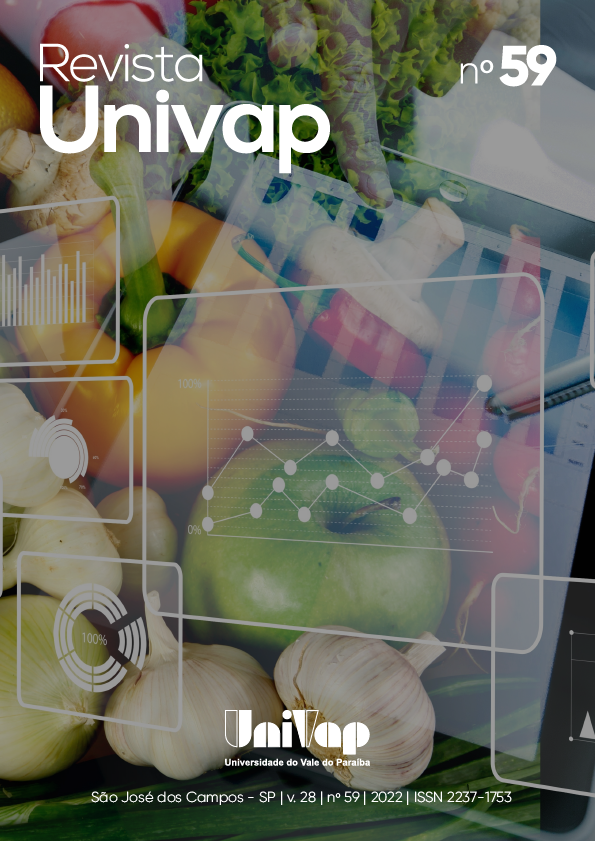 Downloads
Como Citar
Lopes de Oliveira, M. L. ., Alcântara da Costa, J. V., Araujo da Silva , L. ., Santos , J. N., & de Azevedo Canevari, R. . (2022). BUSCA DE MARCADORES MOLECULARES PREDITIVOS DO ACOMETIMENTO DE LINFONODOS EM CARCINOMAS PAPILÍFEROS DE TIREOIDE. Revista Univap, 28(59). https://doi.org/10.18066/revistaunivap.v28i59.4350
Licença
Copyright (c) 2022 Revista Univap
Este trabalho está licenciado sob uma licença
Creative Commons Attribution 4.0 International License
.

Esse trabalho está licenciado com uma Licença Creative Commons Atribuição 4.0 Internacional.
Esta licença permite que outros distribuam, remixem, adaptem e criem a partir do seu trabalho, mesmo para fins comerciais, desde que lhe atribuam o devido crédito pela criação original.
http://creativecommons.org/licenses/by/4.0/legalcode